2021 Lecture Series
The series will address a variety of environmental issues that impact our communities, including wildfires, clean water as a right, shade and urban heat, and the future of parks and open spaces. T.R.E.E. Talks aim to advance discussions to effect equitable solutions at the local, state, and global levels.
Upcoming Talk
T.R.E.E. Talks: Open Spaces
A conversation with those who steward, design, and envision new futures for our parks and public spaces.
Thursday, October 21st | 1:00 PM – 2:15PM PDT
Beyond recreational opportunities, parks and open spaces elevate mental health, build community, and offer sustainable solutions to food scarcity and climate change. As the need for housing increases, so does the need for these essential green spaces. But as urban areas continue to grow, how do we innovate to provide access to green spaces where we live? Join us for an insightful conversation on how the government, nonprofits, and private sector are addressing this need.
Panelists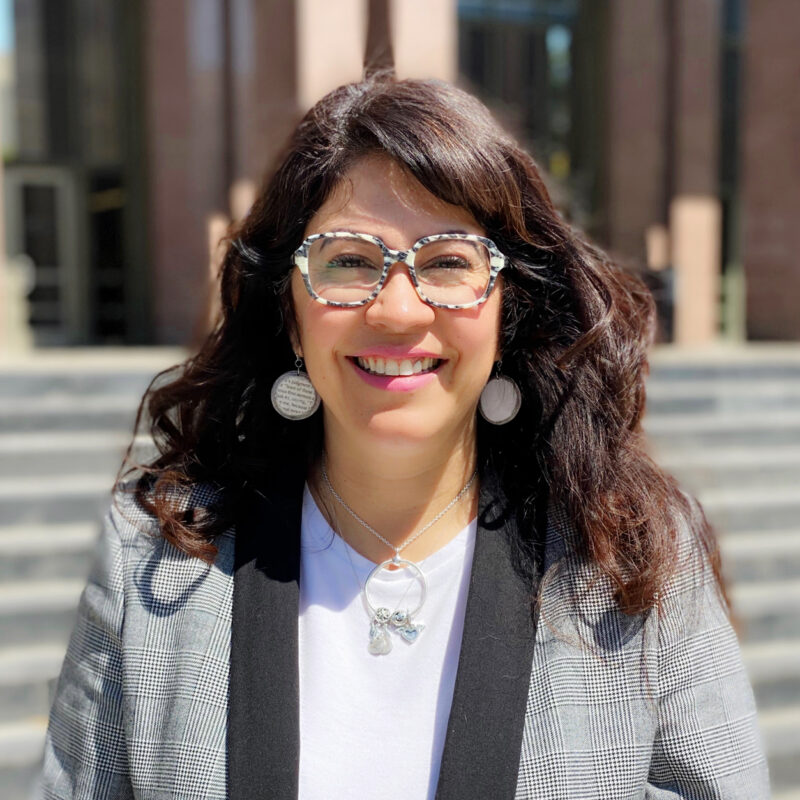 Norma E. García-González
Director of the County of Los Angeles Department of Parks and Recreation
Norma E. García-González was appointed as Director of the County of Los Angeles Department of Parks and Recreation and the Los Angeles County Regional Parks and Open Space District on July 7, 2020.  She is the first woman to serve in that capacity and executive role in the Department since it was created in 1944.  In her role, Mrs. García-González was responsible for the Department's day-to-day operations of 182 facilities that include an annual budget of $256 million, more than 2,600 employees and 6,477 registered volunteers.
Previously, she also held the position of Deputy Director for the Department's Planning and Development Agency. In her thirteen-year career with the Department, Mrs. García-González has held responsibilities in areas of planning, acquisition, development, and asset management of 71,249 acres of parkland and over 200 miles of trails.
Mrs. García-González is an advocate for the well-being of children, families and in bringing equity to communities throughout the County.  This commitment is further demonstrated through her active participation in various civic and professional organizations.  She served on the Governing Board of Trustees for Rio Hondo College and the El Monte Promise Foundation.  
Mrs. García-González is a daughter of immigrants and the first in her family to attend college. She is a double graduate from UCLA with a bachelor's degree in Political Science and a master's degree in Urban Planning. She and her adventurous family of boys and dog, Cozmo enjoy everything about parks!
Robin Mark
Los Angeles Program Director for The Trust for Public Land
Robin Mark is the Los Angeles Program Director for The Trust for Public Land.  Robin oversees a team of landscape architecture professionals and community organizers to deliver quality park projects, green schoolyards, and green alleys throughout LA County.  In recent years, Robin's work has focused on the Los Angeles River, implementing park projects as well as larger planning and policy work around large-scale infrastructure projects and their relationship to displacement.  She is one of the founding members of the LA ROSAH (Los Angeles Regional Open Space & Affordable Housing) Collaborative.   Robin holds a Master of Landscape Architecture degree from California State Polytechnic University in Pomona and is a LEED Accredited Professional.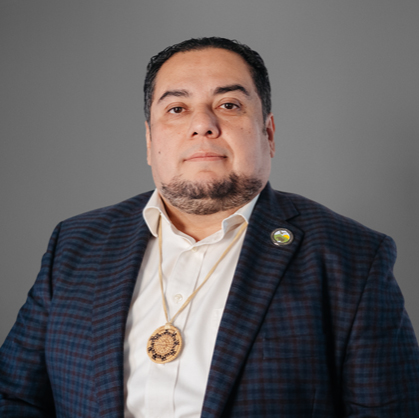 Rudy Ortega, Jr.
Tribal President of the Fernandeño Tataviam Band of Mission Indians
Tribal President, Fernandeño Tataviam Band of Mission Indians Vice Chairperson, Los Angeles City/County Native American Indian Commission Rudy Ortega, Jr. is the Tribal President of the Fernandeño Tataviam Band of Mission Indians, a native sovereign nation of northern Los Angeles County. As the elected Tribal President of the Fernandeño Tataviam Band of Mission Indians (www.tataviam-nsn.us), President Ortega Jr. oversees the Tribe's governmental body and manages affairs pertaining to the rights of all Fernandeño Tataviam tarahat (people).
He is a member of Siutcabit, the lineage of present-day Encino, CA. His ancestors come from the villages that originated in the geographical areas of Santa Clarita Valley, Simi Valley, and San Fernando Valley. His great-grandfather Antonio Maria Ortega, from whom he receives his role as tomiar, traditional leader, fought in Los Angeles Superior Court in the 19 th century to preserve traditional lands and protect the Tribe's title to Mexican land grants from encroaching Anglo-settlers. His father, the late Rudy Ortega Sr., served as the previous leader of the Tribe for over fifty years and was elected to the Los Angeles City/County Native American Indian Commission (LACCNAIC) in 1977. Following his father;s leadership, Ortega Jr. was appointed to the LACCNAIC by Mayor James Hahn in 2004 and currently serves as Vice Chair.
From 2004 – 2018, Ortega Jr. served as the Executive Director of Pukúu Cultural Community Services (www.pukuu.org), the Tribe's non-profit that serves the greater Los Angeles County American Indian community and manages Haramokngna American Indian Cultural Center, located 14 miles up the Angeles Crest Highway (2) (www.haramokngna.org). Currently, Ortega Jr. is a member of the Los Angeles River Master Plan Steering Committee, the Edison Consumer Advisory Panel Board, and the Santa Monica Mountains Conservancy appointed by Governor Edmund G. Brown Jr.
Moderator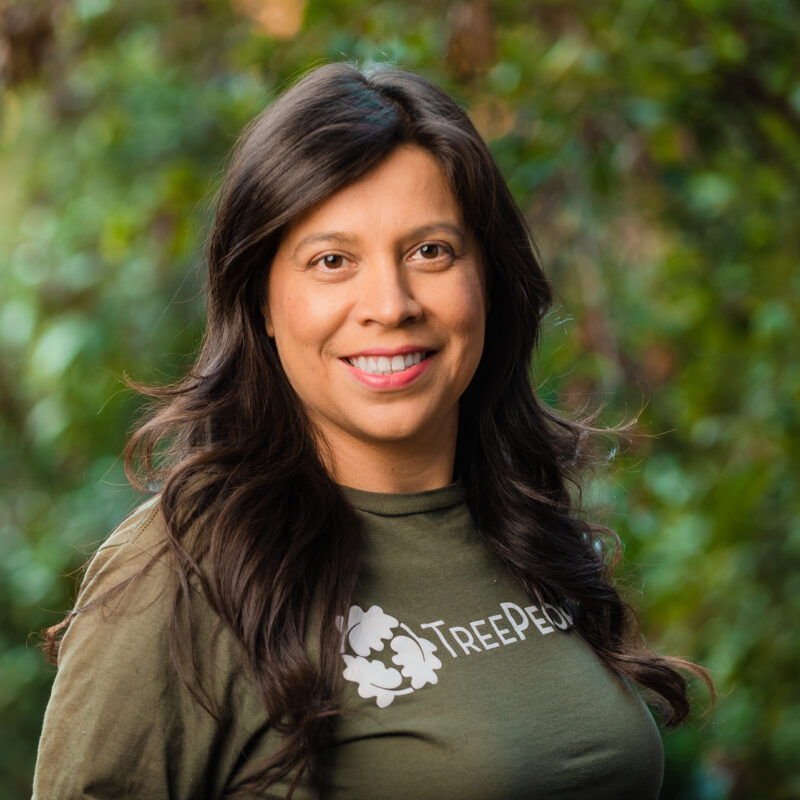 Cindy Montañez
CEO, TreePeople
As CEO of TreePeople, Cindy Montañez has rapidly expanded the Los Angeles-based organization's impact across Southern California and turned it into the largest environmental movement and the fastest growing environmental nonprofit in the region.
At the age of 25, Cindy was elected as the youngest councilmember of her hometown of San Fernando. She became mayor at 27 and at 28 years old, was elected the youngest woman ever to the California State Legislature.
Upon leaving the legislature, Cindy was hired as Assistant General Manager at the Los Angeles Department of Water and Power, where she was a core part of the team transitioning the nation's largest publicly-owned utility to cleaner energy and a more sustainable local water supply.
Cindy has been a longtime champion for bringing people together around the environment, sustainable urban planning and social justice.
In addition to her role as CEO of TreePeople, Cindy was elected in November to the San Fernando City Council and is currently a Board Member for the UCLA Institute of the Environment and Sustainability.