Green Our Schools
We create green learning environments that enhance academic achievement, healthy school communities, and thriving nature through partnerships with school communities and districts by advocating for, implementing, and managing school greening projects to protect students from extreme heat, air pollution and polluted water.
TreePeople has led the green schoolyards movement in Los Angeles for over 30 years, planting more than 30,000 trees on school campuses along the way and implementing large scale green infrastructure projects, beginning at Hillery T. Broadous Elementary School in Pacoima
TreePeople has led the momentum to green our school campuses. Schools are a main center of gathering for communities and are often the only places where some youth, their parents and teachers have the opportunity to teach and learn in green spaces, especially if they live in park poor and environmentally burdened communities.
We need you to join our movement to create beautiful tree-shaded campuses for students to walk, gather, eat, study, exercise, and recreate. This can be done, in part, by transforming campuses into living, vibrant outdoor classrooms that foster creativity and learning, promote health and recreation, revitalize park-poor neighborhoods, and bring opportunities for interaction with nature.
TreePeople defines green schools not just as the infrastructure to green campuses, but also a learning environment that fosters and supports outdoor learning, environmental literacy and climate justice. Our school greening projects center the needs of the school community every step of the way.
Open Charter Elementary School
Completed in 2001, TreePeople, Los Angeles Unified School District (LAUSD), Los Angeles County Open Space District, and Los Angeles Bureau of Sanitation partnered to green Open Charter Elementary School. An underground treatment-and-storage facility was installed to capture campus runoff and reduce the pollutant load to Santa Monica Bay. New playing fields above a 110,000-gallon underground cistern provide much-needed recreation space. In partnership with hundreds of community members, a forest was planted that included 88 new trees, swales, and other vegetation enhancements on the campus.
Hillery T. Broadous Elementary School
Completed in 2001, TreePeople led one of the first LAUSD school greening projects in Pacoima at Hillery T Broadous Elementary, named after Mother Broadous, a prominent Black community leader. With the support of the school district, the site was retrofitted to capture, treat and hold campus stormwater, reducing the flood risk and recharging the groundwater. An underground infiltration system, a swale, and permeable ground cover were installed. In partnership with community volunteers, trees were planted that replaced over 30% of the asphalt that once covered the campus.
Main Street Elementary School
In 2010, the parents of Main Street Elementary students in South Los Angeles walked across the hot cracked asphalt campus and decided it was time for a change. Sonia Rodriguez, a mother of two children at the school, became the life force behind that mission by leading a passionate Main Street green team of parents in transforming the sunbaked expanse of asphalt into a vibrant and natural living landscape with shade trees and native plants. The green team, called Equipo Verde, organized hundreds of school family volunteers to come together on weekends to dig, plant, and provide the care and love needed to create an urban forest for their school community.
"Connecting kids to programs involved with nature inspires them to get involved in their community," Rodriguez said. "It gives them an unforgettable experience. The children remember and, in the future, it affects them in so many ways. It inspires them to connect with nature and it helps with mental health."
Main Street Elementary School's transformation brought environmental benefits such as trees, shade, native plants, a rain garden, and cooling permeable surfaces. And the fact that its design supported what students were learning in the classroom, won the hearts and minds of the school community. The powerful combination of healthy, green spaces and learning about the outside world in a natural setting improved the well-being and academic achievement of the students.
A collaboration between principals, teachers, facilities staff from the Los Angeles Unified School District (LAUSD), TreePeople, La Loma Development, and hundreds of community members made the transformation possible. Rodriguez said many of their Equipo Verde women and youth nurtured leadership skills through the process. The project was life changing for the students, teachers, and staff that belong to the Main Street Elementary community, and for the parents and community members who championed it.
Protect communities from extreme heat and rising temperatures due to the climate crisis.
Reduces particulate matter and air pollutants by expanding the tree canopy.
Increases stormwater capture and reduces water pollution by transforming impervious surfaces into green spaces.
Improves public health and reduces consumption of natural resources through urban heat island mitigation.
Increases community involvement, leading to long-term stability.
Improves academic achievement and mental health.
Current Green Schoolyards Movement
Our goal is to build the largest school greening movement that centers academic achievement, health and equity for students across Southern California and beyond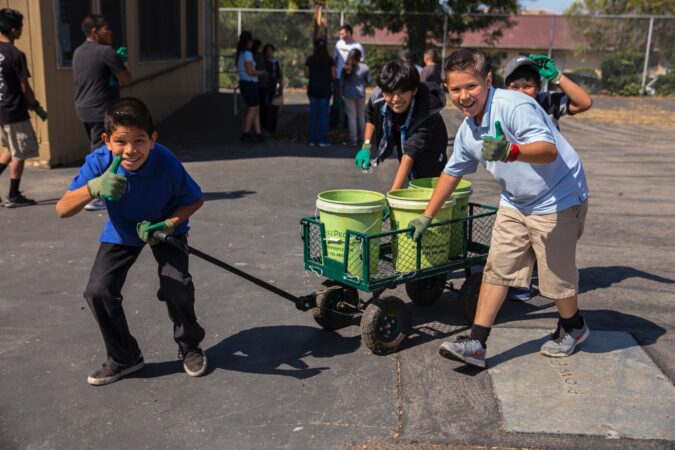 State Policy Work
Systematic changes to school greening will only be achieved through policy change.
Local Policy Work
Working directly with school districts to prioritize and adopt properly funded school greening projects.
Join Our Movement
Stay up to date with TreePeople's monthly newsletter. Find out about upcoming events, announcements, jobs, and other opportunities to get involved!
By submitting, you are agreeing to receive TreePeople related news and occasional communications, and agreeing to our Privacy Policy.