After five years of intense drought, LA's hills are finally alive with a vibrant blanket of lush green grasses and wildflowers!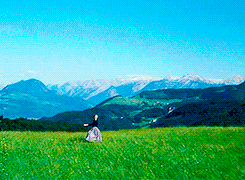 I love living in LA, but I spend too much time in my car or in air conditioned buildings. But as a volunteer and intern with TreePeople, I get the perfect getaway from city life. I immediately feel my heart calm as I walk along the trails of Coldwater Canyon Park; and life's stresses, endless to-do lists and work woes slip away when I volunteer in the field.

One of my favorite events took me to Wilson Canyon Park in Sylmar nestled in the foothills of the San Gabriel Mountains. I remember walking up to the technicolor flowers all over the hillsides– gifts from the winter rains.
Armed with gloves, shovels, mulch and saplings, we teamed up with the Mountain Restoration and Conservation Authority to show some love to Wilson Canyon Park last month. Despite life popping everywhere,  the park still carried scars from the 2008 Sayre Fire and prolonged drought conditions.
Through a lot of hard work and even more fun, over 160 new trees, including California sycamores, coast live oak and Mexican elderberry, will flourish along the beautiful and quiet mountain trails, providing shade for hikers and wildlife alike.
I've also enjoyed making Instagram Stories for TreePeople's account (Follow us: @treepeoplela!) to show my fellow volunteers digging in! I love the opportunities I've had to get to know other passionate LA students who share my hope for a climate-ready LA. Most of them  initially volunteered as a course requirement, but after coming out, the TreePeople bug bit them and they kept coming back– just like me.

Getting FOMO? Join the fun. Sign up to volunteer today!