The Cinader Grove
Trees give us shade, clean our air, provide habitat for wildlife, and feed us. Trees also create beauty and so do special people in our lives.
As we celebrate trees in our lives, we are offering you an opportunity to commemorate these life moments by planting trees in our newly created Cinader Grove at TreePeople's Coldwater Canyon Park. Whether it's the birth of a child, promotions, weddings, special birthdays, memorializing a loved one or one of life's many moments, you can continue to give life to a special day or a special person by donating to TreePeople and planting a tree in the grove.
These dedications are opportunities to honor and celebrate individuals or significant moments in your life.
Cinader Grove Planting Opportunity
We will plant more than 600 native trees over the next 3 to 5 years throughout Coldwater Canyon Park and along the 2-mile Betty B. Dearing Trail, one the most frequented trails in Los Angeles County. Picnic tables will be installed in this area for visitors to enjoy the benefits of the increased urban canopy and views from our park. All of the new native trees will be part of TreePeople's longtime goal of increasing the urban canopy in Los Angeles.
Staff and volunteers will plant, water and continue to maintain the trees to ensure the Cinader Grove lives on for generations to come. All donors will be welcome to plant trees at a volunteer event.
The Cinader Grove will be visibly marked with signage honoring Jean Aubuchon Cinader and all donors who purchase tree packages. Don't miss your chance to dedicate one of the 600 trees available!!
Your donation will include the tree sapling(s) and the creation, installation and placement of the plaque on our larger dedication board.
Tree Packages & Prices
Number of Trees
Package Price
Plaque Size
1 Tree
$1,500
(6.5"x2")
62 characters / 2 lines of text max.
2 Trees
$2,900
(6.5"x3")
94 characters / 3 lines of text max.
4 Trees
$5,600
(6.5"x4")
158 characters / 5 lines of text max.
5 Trees
$6,750
(6.5"x5.5")
222 characters / 7 lines of text max.
*Please note, the location of where the tree is planted, the species of tree and when the tree will be planted are at the sole discretion of TreePeople staff. TreePeople retains the right to recommend edits to text provided. Logos are not permitted.For information and availability, please contact TreePeople Giving at cinader@treepeople.org.
About Jean Aubuchon Cinader
A grove at TreePeople's Coldwater Canyon Park has been named after our former board member, Jean Aubuchon Cinader. Jean passed away in February 2019 and left a bequest that enables TreePeople to expand beautiful, shaded and open spaces.A Great Friend to Mother Earth
Jean Aubuchon Cinader was a longtime TreePeople Board member. She was an actress and during her long career appeared on Broadway in Dream Girls as well as more than 100 commercials. She was always a huge proponent of saving and protecting the environment and animal welfare.
Jean passed away in February 2019 and left a bequest to TreePeople that will both sustain our important work and honor Jean's legacy. With this transformative gift, Jean's legacy will be passed down generation through generation and enable TreePeople to continue our core work planting and caring for trees, trees that visibly illustrate her connection to our mission and impact.
Like Jean, you can also help us make this new grove into a reality for future generations to enjoy. Leaving a legacy gift to TreePeople allows us to continue our work for generations to come.
Tree Plaques, Structure Rendering, & Location
Below are concept designs of individual tree donor plaques and the Cinader Grove structure. All graphical elements subject to change.
1 Tree Donor Plaque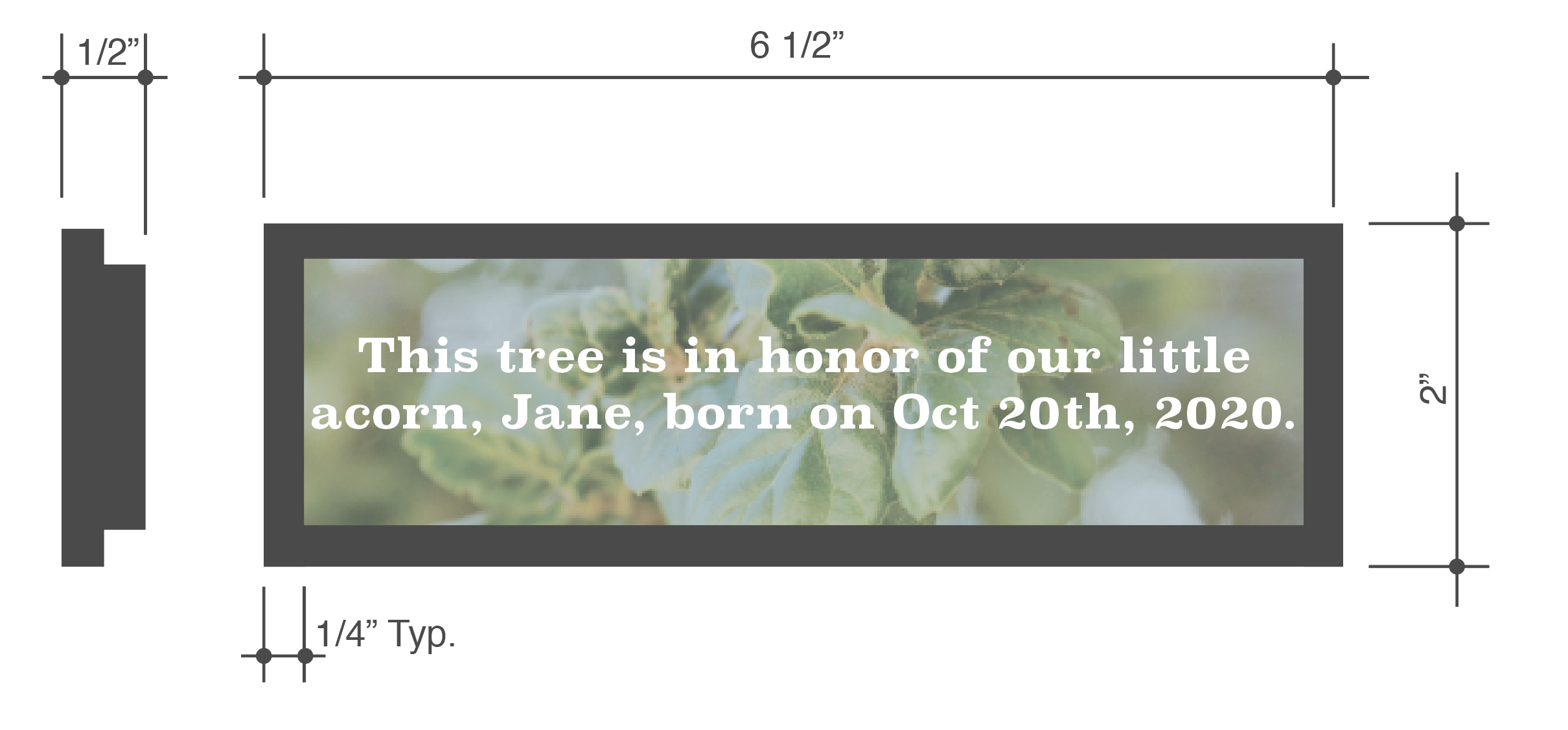 Concept Sketch, Donor Recognition Structure
Top-Down View of Structure
Location of Cinader Grove Structure

Join Our Movement
Stay up to date with TreePeople's monthly newsletter. Find out about upcoming events, announcements, jobs, and other opportunities to get involved!
By submitting, you are agreeing to receive TreePeople related news and occasional communications, and agreeing to our Privacy Policy.